[1904]
[1905]
[1907]
[1908]
[1910]
[1911]
[1912]
[1913-1919]
[1920]
[1921]
[1946]
[EPILOGUE]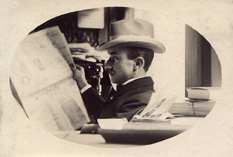 Frederick Charles Adams
on
Whidbey Island

1904-1946

His Diaries
and
Photographs


edited
by
Judy Adams Farris

Fred Adams was born in 1873 in Boston MA. He made his first trip West in 1904, visiting relatives of his maternal grandmother, Eleanor Morse Bradley, who had settled on Whidbey Island WA in the late 1870's. In March 1905, he quit his job as a clerk for a fire insurance company and returned to Washington, visiting his relatives on Whidbey and then taking a job in Bellingham with John Hull, a real estate dealer. Business was poor and in September he left for Los Angeles. He tried his hand at a variety of jobs, mostly canvassing on a commission basis, until giving up and returning to Whidbey in April 1907.
He worked on his cousin Tony Monroe's ranch until early 1908, then went to work with John Hull again. Business was better but still had no bright prospects. He sailed for Los Angeles in September 1910, this time securing better jobs, using his expertise as an amateur photographer to work for several studios. Wherever he lived, he was able to supplement his income playing the cornet, both as a soloist for various kinds of entertainments and in small orchestras for dances, and teaching private lessons. Fred made visits to Whidbey in 1911 and 1912, and came back to work for John Hull in April 1919. He eventually returned to live in Los Angeles but made a last visit to Whidbey in 1946.
The following pages concerning Whidbey Island are excerpted from Fred's diaries and contain photographs he took, developed and printed over the years he visited there. I have added brief narrative on the 1913-1919 page to fill in Fred's life beyond Whidbey, and an Epilogue with several photos I took in August 2000 on my own visit.
To better understand the relationship of various people mentioned in these pages, please see: Morse Relatives.
Please direct any comments, suggestions, corrections to:
Judy Adams Farris



{NEXT}